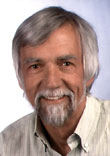 Prof. em., Dr. phil.
1943 in Goldap, Ostpr. geboren.
Studium der Germanistik, Publizistik und Kunstgeschichte in Mainz und Münster (Westf.).
Promotion zum Dr. phil. 1971. Journalistische Tätigkeit.
Wiss. Mitarbeiter am Institut für Publizistik der Universität Mainz. Habilitation 1983.
Von 1984 bis 1988 Professor (Lehrstuhl Journalistik I) an der Katholischen Universität Eichstätt.
1985 Erhalt eines Rufes an die Universität München (abgelehnt).
Seit 1988 Professor für Publizistik an der Universität Mainz.
Wiederholt Geschäftsführender Leiter des Instituts für Publizistik.
1986-1988 Vorsitzender der Deutschen Gesellschaft für Publizistik- und Kommunikationswissenschaft.
1993 und 1999 Visiting Scholar an der University of Washington in Seattle (USA).
Gastprofessor am Freien Russisch-Deutschen Institut für Publizistik der Lomonossow-Universität Moskau (seit 1995) und an der Universität Lugano (seit 2001).
Präsident der History Section der International Association for Media and Communication Research (IAMCR) (1996-2000) und Mitglied in deren International Council (seit 2000).
Mitglied verschiedener Kommissionen und Wissenschaftlicher Beiräte.
1998-2003 Dekan des Fachbereichs Sozialwissenschaften der Johannes Gutenberg-Universität Mainz.
2004 Verleihung des Titels eines "Professor honoris causa" durch die Fakultät für Journalistik der Lomonossow-Universität Moskau.
2005 Wahl zum Korrespondierenden Mitglied der Österreichischen Akademie der Wissenschaften.
Weitere Informationen unter:www.juergen-wilke.net
Forschungsschwerpunkte
Medien- und Kommunikationsgeschichte
Nachrichtenwesen, insbesondere Nachrichtenagenturen
Struktur und Organisation der Massenmedien
Politische Kommunikation
Internationale Komunikation